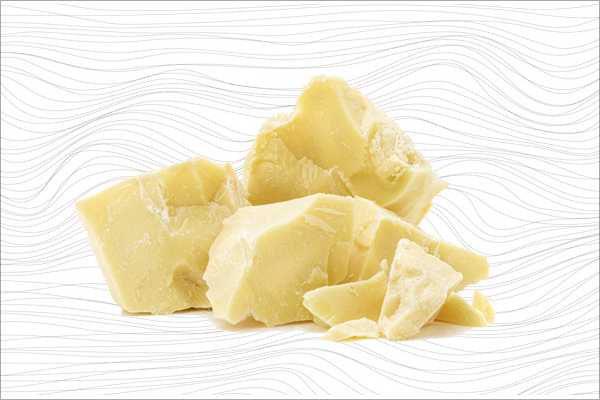 Cocoa Butter
Cocoa butter is a plant-based fat taken from the cocoa bean. It's extracted from roasted cacao beans. In general, cocoa butter is a rich moisturizing cream. Pure cocoa butter may be packaged on its own or processed with other ingredients and sold as a body cream.

One common use of cocoa butter is to smooth scars, wrinkles, and other marks on the skin. Many women believe cocoa butter creams and lotions can be used during and after pregnancy to prevent and minimize the appearance of stretch marks. Cocoa butter has also been promoted to heal rashes from conditions like eczema and dermatitis.
Cocoa butter lotion can replenish skin's moisture and create a barrier to protect your skin from moisture loss. Compared to other oils and creams, cocoa butter tends to be absorbed well without leaving skin greasy. However, cocoa butter definitely helps skin maintain its elasticity and tone.
People often believe that cocoa butter can prevent stretch marks
Using cocoa butter might improve the overall health and appearance of the skin on your face. Moisture, elasticity, and sun protection are all desirable attributes for keeping skin looking healthy.
Product class: cacao butter, theobroma oil, criollo and trinitario
Style: homogeneous compacted fat
Origin: amazon region, peru
Cultivation: organic, conventional
Color class: cream colored, light yellow

Certificate of Physical & Chemical Analysis
Microbiological analysis of the finished product
Declaration on suitability of packing material
Declaration of non-testing of animals
End use certificate
MSDS Certificate
HDPE drum Packaging size available for order.
Volume: 50 KG
Volume: 100 KG
Volume: 200 KG