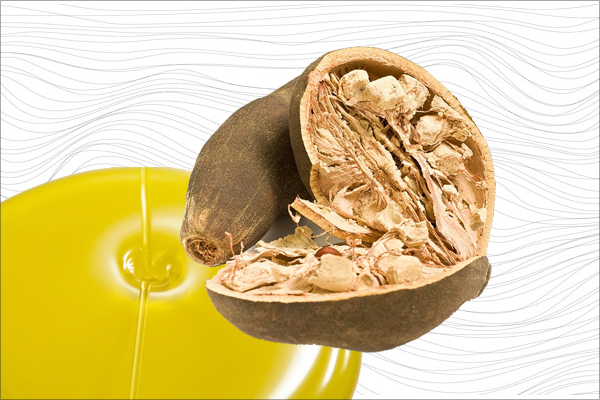 Baobab Seed Oil
Baobabs (Adansonia digitata) can be found in Africa South of the Sahara' Southern and Eastern Africa: Ethiopia (in the South), Eritrea, Kenya, Tanzania, Sudan (in the South), Malawi, Zambia, Zimbabwe, Botswana, Namibia (in the very North), Angola, Mozambique, Somalia, South Africa (in the North, Limpopo Province) West Africa: Burkina Faso, Kamerun, Tchad, Kongo, Gambia, Ghana, Mali, Niger, Nigeria, Senegal, Togo.
Adansonia digitata, the baobab, is the most widespread tree species of the genus Adansonia, the baobabs, and is native to the African continent. The long-lived pachycauls are typically found in dry, hot savannahs of sub-Saharan Africa, where they dominate the landscape, and reveal the presence of a watercourse from afar.[2] Their growth rate is determined by ground water or rainfall,[3][4] and their maximum age, which is subject to much conjecture, seems to be in the order of 1,500 years.[5] They have traditionally been valued as sources of food, water, health remedies or places of shelter and are steeped in legend and superstition.[3] European explorers of old were inclined to carve their names on baobabs, and many are defaced by modern graffiti.
Baobab seed withstand drying and remain viable over long periods, as it has a hard seed coat. It can potentially be dispersed over long distances, and its germination potential is improved when it has passed through the digestive tract of an animal.
Baobab oil is extremely stable with a highly variable shelf life estimated to be between 2 to 5 years.
Has a high content of vitamins A, D, E and F (essential fatty acids)
Provides superb moisturizing benefits to the skin and hair
It is quickly absorbed, improves elasticity, encourages regeneration of skin cells
It is an excellent ingredient in formulations for eczema and psoriasis
Extremely resistant to oxidation
Color- Golden Yellow
Odor- Characteristic
Free Fatty Acids- .12-.16 %
Peroxide Value- less than 10
Certificate of Physical & Chemical Analysis
Microbiological analysis of the finished product
Declaration on suitability of packing material
Declaration of non-testing of animals
End use certificate
MSDS Certificate
HDPE drum Packaging size available for order.
Volume: 50L
Volume: 100L
Volume: 200L